Saw some new Maybelline eyeshadows at my local Zellers. I've been frequenting Zellers in hopes of seeing some E.L.F. products there and finally they've arrived, but only the pink packaged gift sets. I took a look but didn't get anything. These Maybelline shadows caught my eye instead.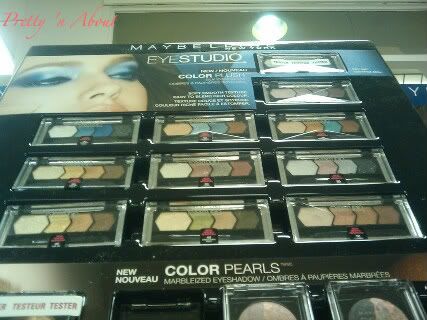 They're placed them really high up on the shelves which explains the angle of this picture. It was quite a reach for me to get them, especially the top ones.

I have to admit though, they look

beautiful

. Shimmery and each color had undertones of another color. But they were more expensive than the conventional Maybelline quads, which were priced at around $7-8CAD each. These ones were $11CAD for smaller pans.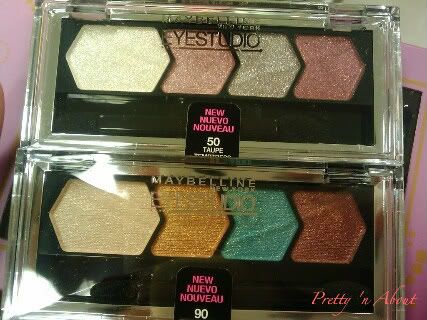 These two quads really caught my eye. The top one is calle Taupe Temptation and my pictures really doesn't do it justice. The third color from the left is this fabulously beautiful taupe color. As for the bottom on, I was only really interested in the lovely turquoise, which had golden undertones.

I had previously promised myself to not get anymore eyeshadows since I already had so much, but I don't know if I can hold off on these...but I think I can justify getting the turquoise one because I don't have a turquoise color!!!