It was such a nice surprise to open my inbox and see a $20 coupon from Sephora. I didn't want to get anymore makeup so I went browsing in the skincare section. It took quite a while to pick something but I finally did.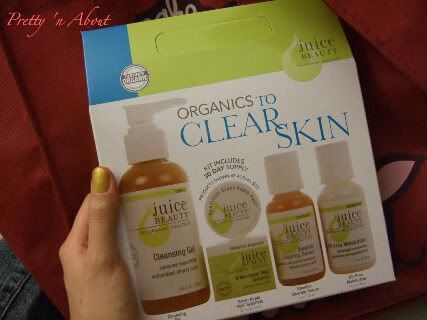 It sucks that the prices in CAD are so much more than in the States. This Juice Beauty kit is $51CAD but only $39USD, and with the current exchange rate they are really making a profit. However as I had my $20 coupon, which exchanged to (HA!) $21CAD, I purchased this kit for $30CAD.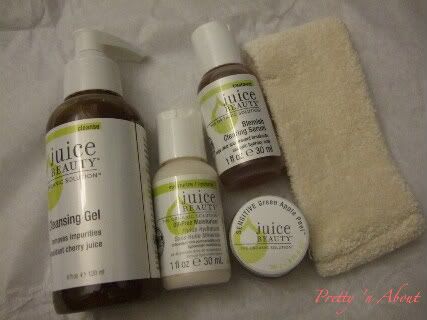 I thought it was still a pretty good deal, as the products are actual sizes shown on the box. I've always wanted to try organic products and see how they fare. This is a 30-day trial pack so I'll report back in a month to tell you all how it worked out!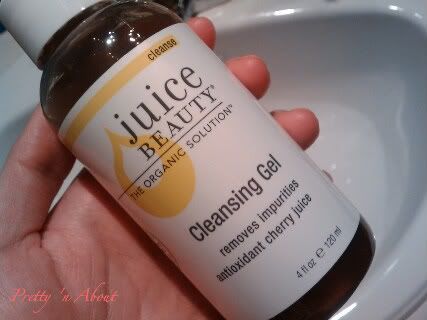 The Cleansing Gel was the biggest size. It gave me quite a surprise when I used it though.

You see, when I see something called Juice Beauty and that it's made with some sort of fruit juice, I expect a citrusy, fruity scent right (I know, I've been spoiled by all those artificial products out there)?

That was not the case at all with this gel. It's actually quite an offending scent, comparable to Chinese medicine. It just smells really bitter. But I guess that really means that there's not fragrance added, which makes it organic right?

It does clean very well but leaves my face a bit tight, but I contribute that to my dry skin overall.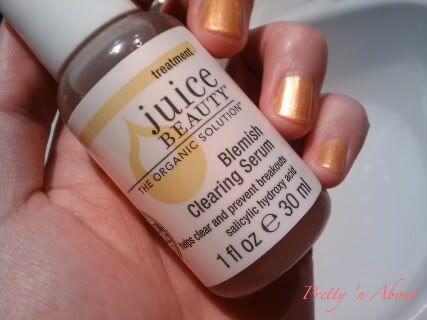 Next is the Blemish Clearing Serum. Now this had more of a fruity scent, but it's like an apple core that's been out for a while. It's not offending but not your typical scent for sure.

It applies very easily. It stays a little sticky on my fingers but not on my face. I've been using it for about 4 days and haven't seen

big

improvements yet. Again, I'll report back in a month.

I will introduce the last two products in a bit!